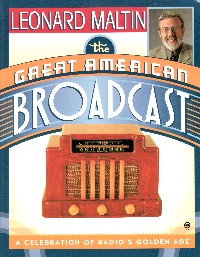 Exclusive!
Autographed copies of
Radio turned Orson Welles into an overnight sensation. It helped create the legendary personas of Jack Benny, Bob Hope, Fanny Brice and George Burns. It lured such Hollywood stars as Joan Crawford, Humphrey Bogart, Barbara Stanwyck, Lucille Ball, Kirk Douglas and Bette Davis. It captured the imagination—and the hearts—of the entire country, and turned America's airwaves into coast-to-coast magic.
We're pleased to offer Leonard Maltin's critically acclaimed celebration of this treasured American institution. The Great American Broadcast offers a fascinating history of radio, from its early days in the late teens and 1920s, through its golden age in the 1930s and '40s, to its denouement in the '50s, when television began to dominate the media landscape.
In The Great American Broadcast, Leonard Maltin offers insights gleaned from hundreds of interviews with radio legends, and gives fans a readable history of the great radio genres: the soap operas, westerns, variety shows, comedies and thrillers.
The Great American Broadcast is out of print and availability is limited. We are happy to make available autographed copies of the softcover edition to our readers.
"Leonard Maltin brings the same seemingly boundless enthusiasm and encyclopedic recall previously devoted to film to the so-called Golden Age of broadcasting."
The New York Times Book Review
"A delightful, heavily illustrated history of radio."
-Publishers Weekly
"Fans of radio's golden age will find this valentine right up their alley."
-Entertainment Weekly

| | | |
| --- | --- | --- |
| U. S. $27.95 | Canada $32.95 | Int'l $37.95 |
| | | |

From 1966 to 1975, Leonard Maltin edited and published Film Fan Monthly,
a magazine for movie buffs, and we're happy to make back issues
of the magazine available again.
Reading Film Fan Monthly is a stroll through movie history: each issue is packed with photos, interviews, filmographies and features that reveal the passion and appreciation that Leonard and his contributors (including many of America's
leading film authors and experts of the 60s and 70s) shared for every
aspect of the history of film.
All back issues of Film Fan Monthly are $5.00, shipping included.
Tallulah Bankhead: A detailed review of the estimable career of the inimitable Tallu by Jerry Vermilye, published only three months after her death in late 1968. Includes a complete filmography. Plus reviews of books by Bob Thomas, Andrew Sarris, and Peter Cowie.
luminaries.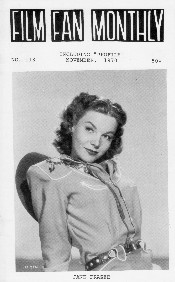 An appreciation of Jane Frazee, the queen of B Musicals of the 1940s, by Doug McClelland. Part Four of John Cocchi's exhaustive detailing of The Films of Johnny Mack Brown. Plus reviews on 10 books, and Odds and Ends.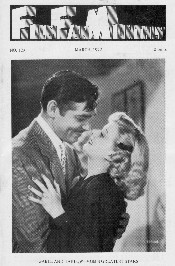 FFM 129 - March, 1972
Leonard Maltin revisits MGM, Hollywood's premier studio of the '30s, with a re-evaluation of some of the highs and lows the studio churned out during that decade. Other features: the too-frequently overlooked Gladys George celebrated by John Brunas and a tribute to Mabel Paige, Paramount's busiest and best character actress of the '40s.
The dashing George Brent receives a detailed appreciation by Fred Watkins, with comments from the veteran actor and a filmography of Brent's 80+ movies. Anthony Slide contributes a retrospective of the career of Vivienne Segal (Viennese Nights).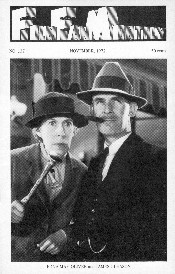 FFM 137 - November, 1972
A career retrospective of Edna May Oliver, the indispensable character actress of 1930s Hollywood, from Jimmie Hicks, complete with Oliver's filmography. Don Stanke interviews Jeff (née Jean) Donnell, character juvenile of the '40s, TV staple of the '50s.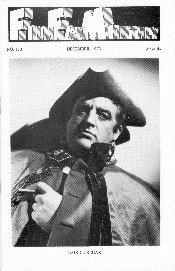 FFM 150 - December, 1973
Gregory Mank offers a sympathetic profile of Laird Cregar, whose career as a Hollywood heavyweight was cut short at age 28; complete with a too-brief filmography. Jerry Vermilye assesses the estimable career of Bonita Granville, from her teen debut in the '30s to her prominence as the producer of TV's Lassie in the '60s.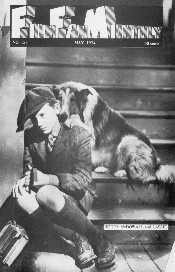 FFM 155 - May, 1974
Roddy McDowall's career is surveyed by Mel Schuster with colorful, candid comments from Roddy himself, and a complete filmography. Leonard Maltin reviews rare Raoul Walsh films of the 1920s and 30s screened at the Museum of Modern Art, and continues his series of columns on RKO Revisited. Doug McClelland profiles 1940s ingénue Jean Brooks, a favorite of producer Val Lewton.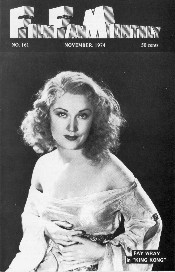 FFM 161 - November, 1974
Fay Wray reviews her life on film for author James Bawden, with rare photos and a complete filmography. Leonard M. continues his RKO Revisited series, with summaries of oddball titles from the 1930s…and reports on rare MGM shorts screened at the Museum of Modern Art. Book reviews cover the latest on Bela Lugosi, Paul Muni, and Garson Kanin.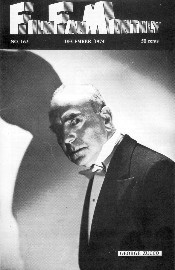 FFM 162 - December, 1974
George Zucco, that master of screen menace, is profiled by Doug McClelland, with rare photos and a complete filmography. Leonard Maltin adds another installment to the RKO Revisited series and collects "odds and ends" of historical movie trivia. And Kirk Crivello tells the story of beautiful Earl Carroll showgirl Wanda Perry.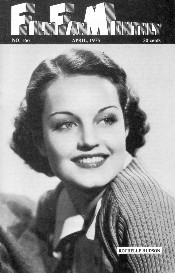 FFM 166 - April, 1975
Rochelle Hudson, the 'dark beauty' of 1930's Hollywood, is remembered by Kirk Crivello. Doug McClelland offers a summary of the too-brief career of Peggy Moran, a favorite of inveterate film buffs. Reviews of books about Katharine Hepburn and Georges Méliès, and more.